Fly-Drive to the Three Valleys
Posted on January 11, 2023
Let's get the covid-19 regulations and restrictions out of the way first
There are none! That's the wonderful news since August 1st 2022 😎
You can check out the government's latest regulations for travelling from and back to the UK here.
Basic checklist is
Check passport and travel documents before you travel
Visit your airline, eurotunnel or ferry company, or train travel website for further up to date information for entering France
It's also a good idea to check out your UK Global Health Insurance Card (GHIC) (previously European Health Insurance Card) situation. See info here.
But which mode of transport to the French Alps will be best? Drive, fly or let the train take the strain?
We've been researching the latest info on travel - pros, cons and helpful signposting to help you choose how you will travel to the French Alps.
First up in our series – a deep dive into FLYING
This is the quickest route to the slopes though it comes at a price. A price, however, you may be prepared to invest for convenience and journey time at an average of 1hr 45 flight time. Followed by a 2-2.5 hour transfer journey to your chosen resort.
All of the lovely self catered chalets and apartments we offer across eighteen of France's best resorts are serviced by four main airports together with ground transportation. We are happy to help you choose / find the perfect apartment and sort out travel arrangements for you so please do be in touch on tel + 44 (0)1962 899017 or Email [email protected].
UK airports that will fly you to your alpine adventure are listed below – plenty of choice wherever you are coming from in the UK: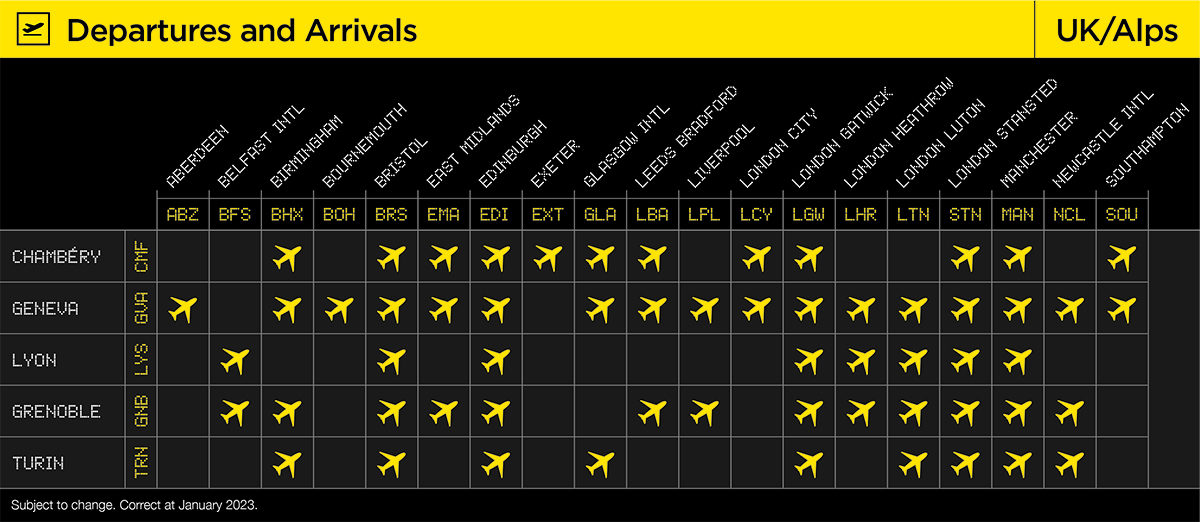 We have good relations with reputable transfer companies and can organise this for you.
Alternatively you could rent a car via Rentalcars.com or AN other rental company. For information about parking Val Thorens - Book your parking space online is a good source of information.
There is also a public bus service – Altibus – which runs between Geneva Airport and Val Thorens.
More expensive and carbon footprint heavy than driving or training it, flying is however the speediest mode of transport on offer. Airlines are now flagging their 'greener' flight options which helps.
The cost of flying?
This is variable between airlines and mainly depends when you go really.
February half term holidays make it the priciest time in the season. Easter holiday sunshine ski-ing in April is slightly less expensive because there is likely to be less powder – but a gorgeous time to go with the family. March is less expensive again – no school hols and great snow so good for a trip sans enfants. December is less expensive than March, so how about Xmas in the Alps? And January is the best value month to ski out of school holiday time.
As a rough guideline around travel costs we've put together a table showing travel costs to one of the most popular (and highest) resorts in the Three Valleys: Val Thorens based on a family of four (two adults, two kids) flying from Gatwick. We've imagined a baggage allowance of two hold suitcases and 4 small cabin bags and have looked at costs flying to four different airports along with onward journey transfer costs (using EasyJet, Tui, Mountain Rescue and Alp2Alp Transfer services).
Let us stress – this is a rough guide of averages but it gives you an idea at least. There is so much out there flight wise that you could find cheaper and more expensive flights to suit your budget. We're always happy to help you navigate this aspect of holiday planning so do give us a shout if you'd like a friendly steer.
Price guide for travelling from Gatwick to Val Thorens including parking and transfer costs.
This gives you a ballpark figure as a guide for costs of travelling to all of the lovely French resorts within which we offer self catered apartments and chalets.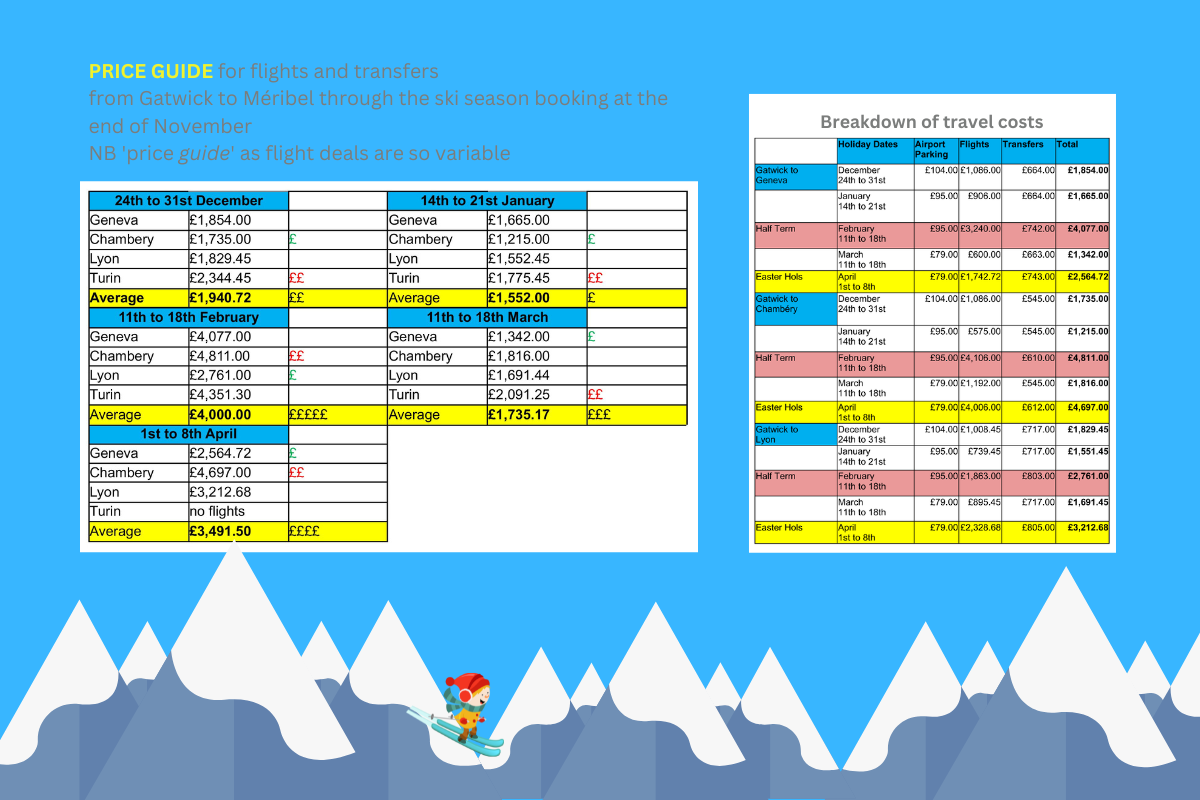 Val Thorens is celebrating its 50th Anniversary which could make it a fun destination this season. We have inviting self catered ski chalets and apartments waiting for you there, as well as over fifteen of France's best resorts in the three valleys and beyond.
So now you have a steer on travel budget, start (or continue!) browsing for which apartment or Chalet you are going to nab for some much earned 'wellbeing' on and off your skis in the wonderful mountain air this season.
Bring us in when you've made that list of burning questions we can help answer to tailor your ski holiday to you and yours.
tel + 44 (0)1962 899017
Email [email protected]
Are you now thinking 'actually what about the full monty all in catered ski holiday?' Drop into The Chalet Company where you can see what ski holiday heaven is on offer in Méribel …
Next in the series ... travelling by train … Watch this space …
Writer Kate Swainson Price